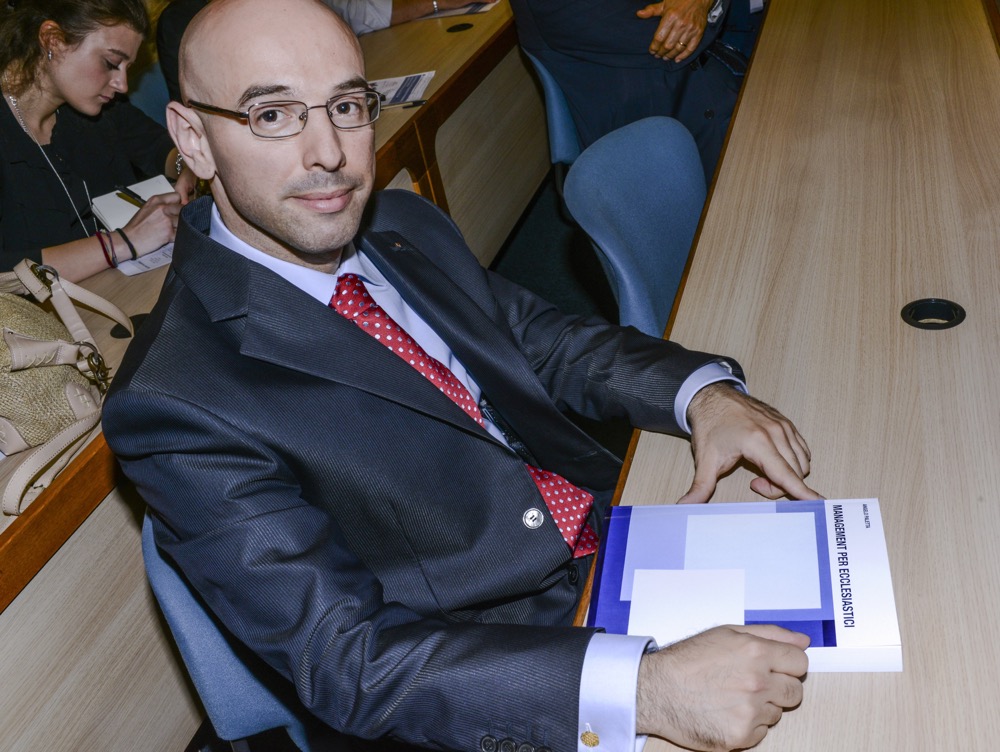 Nato a Roma nel 1980, ho studiato alle scuole elementari e alle medie inferiori presso istituti tenuti da religiosi ed ho ottenuto la maturità al Liceo Scientifico Statale "Antonio Labriola" di Roma. Dopo aver assolto l'obbligo della leva militare nell'Esercito, mi sono iscritto alla Facoltà di Economia "Federico Caffè" presso l'Università degli Studi "Roma Tre", dove mi sono laureato in Economia Aziendale seguendo il vecchio ordinamento. Nello stesso Ateneo ho conseguito il master di II livello in Diritto Amministrativo e Scienze dell'Amministrazione alla Facoltà di Giurisprudenza. All'Università degli Studi "Tor Vergata", all'università LUMSA e all'Istituto di Studi Giuridici del Lazio "Arturo Carlo Jemolo" ho condotto ulteriori approfondimenti di alta specializzazione in materie giuridiche ed economiche. A Borsa Italiana - London Stock Exchange Group ho approfondito le tematiche sul corporate finance. Sul piano istituzionale, dal 2008 al 2013 ho ricoperto incarichi elettivi nel Comune di Roma ed il sindaco mi ha delegato per le funzioni di Ufficiale dello Stato Civile. Nel 2012 sono stato investito cavaliere dell'Ordine Equestre del Santo Sepolcro di Gerusalemme, mentre nel 2016 sono stato promosso al grado di commendatore, titoli rispettivamente riconosciutimi nella Repubblica Italiana con i decreti dei Presidenti del Consiglio dei Ministri Enrico Letta (2013) e Giuseppe Conte (2018). A livello professionale dal 2010 amministro società di capitali e reti d'imprese, vincitrici di progetti finanziati con fondi strutturali europei (programmazione 2007-2013). Dal 2013 sono iscritto nell'Albo dei Manager delle reti d'imprese e dal 7 novembre 2019 il Ministero dello Sviluppo Economico mi ha iscritto nell'Elenco degli Innovation Manager. Collaboro con le riviste Diritto 24 e Lex 24 (Il Sole 24 Ore) su tematiche di approfondimento in materia di diritto, economia e finanza, nonché con TWO Il Consulente (house organ dell'Ordine dei Consulenti del Lavoro di Roma). Ho scritto per Informazioni della Difesa, rivista ufficiale dello Stato Maggiore della Difesa. Ho pubblicato la monografia "Minibond. Strumenti finanziari per le Piccole e Medie Imprese" (Aracne Editrice, 2015) ed il libro "Management per Ecclesiastici" (Edusc, 2016). A livello accademico, dal 2015 al 2017 sono stato docente incaricato del corso di "Management for Ecclesiastics. Pastorale delle Risorse" alla Pontificia Università della Santa Croce. Dal 2017 assumo il ruolo di Direttore Scientifico del Gruppo di Ricerca "Cultura e Pastorale nell'Amministrazione del Monastero e dei Beni Ecclesiastici" presso il Pontificio Ateneo S. Anselmo, dove dal 2018 sono docente nel corso di "Management dei Beni Culturali Ecclesiastici" e nel corso "Management dei Beni Monumentali Religiosi". Per gli Anni Accademici 2017-2018 e 2018-2019 presso la LUMSA vengo incaricato docente nel corso di perfezionamento in "Management degli Enti Ecclesiastici" e nel corso di "Management delle Strutture Sanitarie Cattoliche". A novembre 2018 mi nominano cultore della materia presso la cattedra di Politica Economica all'Università Cattolica del Sacro Cuore di Milano. Nell'ambito delle rappresentanze aziendali, Assoimprese mi ha nominato Responsabile della Divisione Corporate Finance e Minibond e nell'ANPIT vengo chiamato come Responsabile dell'Ufficio Finanza Strutturata e Mercati Finanziari. Dal 21 dicembre 2017 sono iscritto al Ruolo dei Periti e degli Esperti della Camera di Commercio di Roma nella categoria XXII "Previdenza e Credito", in particolare nelle sub-categorie "Tecnica bancaria" (cod. 006), "Valori mobiliari" (cod. 007), "Mutui e finanziamenti" (cod. 008). Per conto della società GuttaFin sono iscritto nei registri dei rappresentanti di interesse della Camera dei Deputati e del Ministero dello Sviluppo Economico. 
I was born in Rome (RM, Italy) on 29th July 1980. I graduated in Business Economics from the "Roma Tre" University and obtained an II level master's degree in Administrative Law and Administrative Sciences (among his professors, Prof. Sabino Cassese). Later, I deepened my training in law and economics at the "Tor Vergata" University, at the LUMSA University and at the Lazio Institute of Legal Studies "Arturo Carlo Jemolo". On Borsa Italiana – London Stock Exchange Group I perfected the techniques of corporate finance and the notions of financial instruments and financial markets.
On an institutional level, from 2008 to 2013 I held elective offices in the Municipality of Rome and assignments on the Lazio Region Council. Also, I performed duties as a Civil Status Officer on behalf of the Mayor of Rome. In 2012 I was assigned to the title of "Knight" of the Equestrian Order of the Holy Sepulchre of Jerusalem. In 2016 I was promoted to the rank of "Commendatore". These titles are recognized in Italy with the decrees of the Presidents of the Council of Ministers Enrico Letta (14th June 2013) and Giuseppe Conte (6th July 2018). They confirm the existence of the requirements of integrity (considering the accurate checks carried out by the Secretariat of State of Holy See and of Vatican State and by the Presidency of the Council of Ministers of the Italian Republic).
On a professional level, since 2010 I managed joint-stock companies and chaired the management bodies of two Business Networks, winners of calls for bids financed by European funds (2007-2013 Program): "Risk Coast Analysis" and "Business in Cloud". At present I am the chairman of the Management Network of the Finance & Risk Business Network and a member of the SACCIR Industrial Network Management Network (parent company: SACCIR SPA, with a turnover of over 50 million euros). In 2016 I was appointed by Assoimprese as Head of the Corporate Finance Division and Minibond. In 2017 ANPIT called me (62 offices in Italy and 29,000 associated companies) as the Head of the Structured Finance and Financial Markets Office. I am registered in the Registers of Interest Representatives at the Ministry of Economic Development (from 3rd December 2017) and at the Chamber of Deputies (from 13rd March 2018), where I have a permanent access permit. In 21st December 2017, with a special resolution of the Chamber of Commerce of Rome, with the number RM-2306, I was registered with the Role of Experts (R.D. 20/09/1934 and Regulation by the Ministerial Decree of 29/12/1979) within the category XXII "Pensions and Credit" in the sub-categories "Banking Technique" (code 006), "Securities" (code 007), "Mortgages and loans" (code 008).
My publications are the following monographs:
1) "Minibond. Financial Instruments for Small and Medium Enterprises" (Aracne Editrice, 403 pages, 2015, ISBN: 978-88-8333-572-3), having:
- Preface by Cav. Dr. Maurizio Napoli, Head of the Advisory Team and Corporate Finance of Finnat Euramerica Bank;
- Introduction of Cav. Dr. Alvise Figà Talamanca, manager of the Family Office of Finnat Euramerica Bank.
2) "Management for Ecclesiastics" (university press Edusc, 503 pages, 2016, ISBN: 978-88-548-8464-9), having:
- Introduction by Mons. Luis Romera, Rector of the Pontifical University of the Holy Cross;
- Preface by Mons. Alberto Perlasca, official of the Secretariat of State of His Holiness;
- Introduction by Mons. Mauro Rivella, Secretary of the Administration of the Patrimony of the Apostolic See (APSA).
3) "AIM Italia. Quota SMEs in the Italian Stock Exchange" (in the process of publication).
At present I am contributing to the magazines "Diritto 24" and "Lex 24" ("Il Sole 24 Ore") where I dealt with issues relating to corporate law, banking law, the economy public or financial markets, accounting principles and corporate balance sheets, investments and insurance. I wrote about finance, banks and companies for "Defence Information" (the official journal of the Defence Staff). Furthermore, I am one of the authors of the magazine "TWO Il Consulente", house organ of the Order of Labour Consumers of Rome, where I deal with issues related to corporate and banking law.
On the academic level, from 2015 to 2017 I have been a lecturer in the course "Management for Ecclesiastics. Pastoral Care of Resources" at the Pontifical University of the Holy Cross. From 2017 I have been appointed the Scientific Director of the International Research Group "Culture and Pastoral Care in the Administration of the Monastery and Ecclesiastical Heritage" at the Pontifical Athenaeum S. Anselmo, where I teach in the course "Management of Ecclesiastical Cultural Heritage". Also, I teach at the LUMSA University in the specialization courses "Management of Ecclesiastical Institutions" and "Management of Catholic Health Structures" with the role of professor of management. Since November 2018 I have been a scholar at the chair of "Economic Politics" at the Catholic University of Milan, which is the largest Catholic university in the world and competes with the Bocconi University in the fields of banking, finance and insurance.
I MIEI PROGETTI CULTURALI IN CORSO
• Coordinare la collana "Guide di Management" su incarico della Edizioni Santa Croce
• Completare la redazione del manuale "AIM Italia. Quotare le PMI in Borsa Italiana"